If you would like future events to be included in these monthly emails, please email Joyce at joyce.rosser13@gmail.com
If you would like future events to be included in these monthly emails, please email Joyce at
joyce.rosser13@gmail.com
Join our Facebook Page for updates, and feel free to post your events and information.

If you would like to receive these newsletters, sign up HERE.

If you need to unsubscribe or update your subscription details, click the link at the bottom of the newsletter.
---
September 2021

Things are starting again, leading up to Big Green Week 18th-26th September.
Let us know of events that you are involved in for inclusion in future Monthly Mailings.
Thanks
Joyce Convenor, Sustainable Haringey Network
https://sustainableharingey.wordpress.com/
020 8347 7684 07951 905490
INFORMATION AND NEWS
Fuelling Empowerment: new community energy champions in Tottenham

The energy transition leading to a sustainable low-carbon future is as much about use and supply of energy as about generation. En10ergy has recently been part of an exciting project to train energy champions in Tottenham.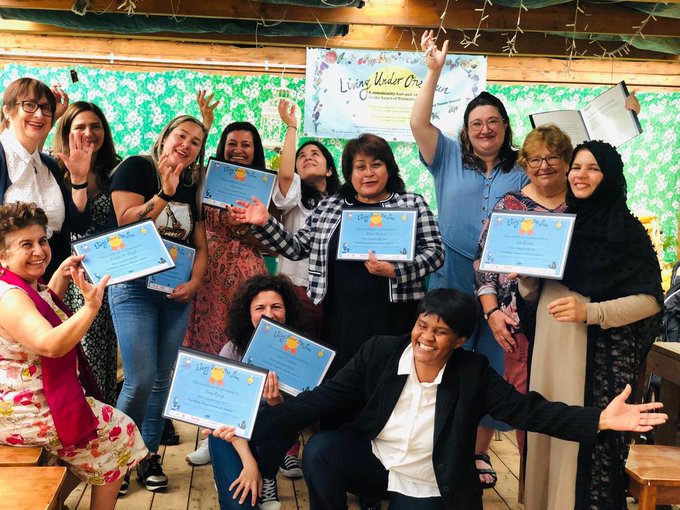 With energy bills going up, affordable warmth is a growing issue for many people in Haringey. En10ergy has been proud to work with Living Under One Sun, an inspirational charity that has been working in Tottenham for sixteen years.https://en10ergy.org.uk/2021/08/25/fuelling-empowerment-new-community-energy-champions-in-tottenham/

11am Saturday 6 November 2021
Global Day of Action for Climate Justice

As world leaders meet in Glasgow for climate talks, let's send them a clear message:
We need a future that works for ALL of us! ACT NOW!
As wildfires, floods and extreme heatwaves hit Germany, Greece, Italy and Turkey, we can see at close hand how the global climate emergency is growing more acute.
It is people in the Global South – who have done the least to cause climate breakdown – that are the ones to endure the worst of its effects.
At a local level, it is people of colour and those living in poverty who disproportionately suffer from the impacts of air pollution and climate change.
Join us in asking both local leaders and world leaders to put justice and equity at the heart of their response to the climate emergency.
More details will be sent out nearer the time.

Haringey Climate Forum website
For information on what Haringey Council is doing to meet climate targets
https://haringeyclimateforum.org/

Haringey Cross Borough walks booklets
Haringey Friends of Parks Forum have published three walks booklets – Alexandra Palace to Bruce Castle; The Moselle; and Palace Gates to Seven Sisters Railway.
These can be downloaded from the HFPF website using the links at the top left of their website: https://www.haringeyfriendsofparks.org.uk
but we also have printed copies for distribution by libraries, community groups, etc. We haven't been able to distribute the booklets during the lockdowns but now it is OK.
So if you would like copies for any event please let Joyce know joyce.rosser13@gmail.com
DATES OF MEETINGS AND EVENTS
Check the website for actions and events. There's also a digital rebellion for people who are unable or not wanting to attend in person. It involves sending emails or calling banks or companies.
https://www.facebook.com/XRHaringey/
https://extinctionrebellion.uk/act-now/campaigns/digital-rebellion/


Saturday 11th September ~All day till 5pm.
Lordship Rec Flower & Produce Show
The show, workshops, stalls and refreshments.
Show entries can be registered for free on the day between 8.30-11am. 98 categories for growing, cooking and crafting. 2021 entry forms available online or by email from joanhcurtis51@gmail.com See you there! Get growing, get baking, get making.
https://lordshiprec.org.uk/

Tuesday 14th September ~ 6pm (online)
Retrofitting Meeting
What Haringey Council is doing Homes for Haringey stock, including Energiesprong; private rental sector retrofit, including enforcement; owner-occupied retrofit including planning issues and what can we do with private sector homes (Josie Evetts from Ecofurb and Nadia Smith from Future Fit Homes). Organised by Quentin Given, Haringey Climate Forum www.haringeyclimateforum.org
To join the meeting email info@haringeyclimateforum.org

18th-26th September Big Green Week
Go Green Week at Chestnuts Community Centre
11am to 5pm each day plus some evening online events. Monday – food growing and green spaces: growing workshop, seed swap, tree walk. Tuesday – warm homes and energy Wednesday – sustainable business and green jobs Thursday – recycling and the fashion industry: upcycling your clothes, Friday – active travel: bike swap, bike repair, e-bikes, Living Streets, Haringey Cyclists.
https://www.bridgerenewaltrust.org.uk/chestnuts-community-centre

Sunday 19th September ~ 9.30am-5.00pm
YMCA Fun Run and Festival
Priory Park, Crouch End, N8 www.ymcanorthlondon.org.uk

Saturday 25th September 12-6pm
Peace and Wellness Festival
In the St Ann's Peace Garden, Harringay www.chg.org.uk

Saturday 25th September St Ann's Redevelopment Trust (StART) AGM
http://www.startharingey.co.uk/

Sunday 26th September Meadow Orchard Open Day
https://meadoworchard.org/

Sunday 26th September N10 Traders for the Earth stall
Muswell Hill Sustainability Group will be having an N10 Traders for the Earth stall outside Planet Organic, Muswell Hill. Details to be confirmed – but the idea is to promote shopping locally, and to support local businesses that are doing good, sustainable things.
https://mhsgroup.org/

Sunday 26th September Hornsey Vale 30th Anniversary Event
https://hornseyvale.org/

ENVIRONMENTAL/GARDENING PROJECTS

Haringey has lots of practical environmental and gardening projects. We have listed a few of these below.

Friends of Parks
There are active Friends groups in most Haringey parks
https://www.haringeyfriendsofparks.org.uk/

Stonebridge Lock Coalition
Frances Dismore, Chair Stonebridge Lock Coalition 07751400076
Facebook: fb.me/StonebridgeLock Twitter: @StonebridgeLock

The Conservation Volunteers
TCV Haringey run a range of practical activities in nature reserves, parks and woodlands across the borough every Tuesday, Thursday and Sunday. New volunteers are welcome, no previous experience necessary.
For further details, see www.tcv.org.uk/haringey
or contact Mat at m.pendergast@tcv.org.uk

Wolves Lane Centre
Wolves Lane Centre continue their popular plant sales from 11 to 3 every Sunday. Edibles, garden plants, indoor plants all available. There is delicious hot vegan food on sale for lunch (eat in or takeaway), sometimes seasonal organic fruit grown on site, and you can visit the historic palm house and the cactus house.
Also a click and collect system for plant purchases; see https://www.woodsandgreens.co.uk/,
email wolveslaneshop@gmail.com, tel. 07803246000
For other Wolves Lane events and calls/opportunities for volunteers please see http://www.wolveslane.org.